CCRQBOM was not designed for file exports, but you can export a BOM to Excel with a little work.
Here's my assembly Assembly RWS, printed with CCRQBOM:

First, note that you can export a BOM from QuickBooks by itself. In QuickBooks, select File/Utilities/Export/Lists to IIF Files. Choose the Item List from the export dialog and save the file. This creates an IIF file that has your entire item list, along with the BOM for your assemblies. Here's what you see if you open that IIF file with Excel. As you can see, there is a lot of extra "junk" in the file.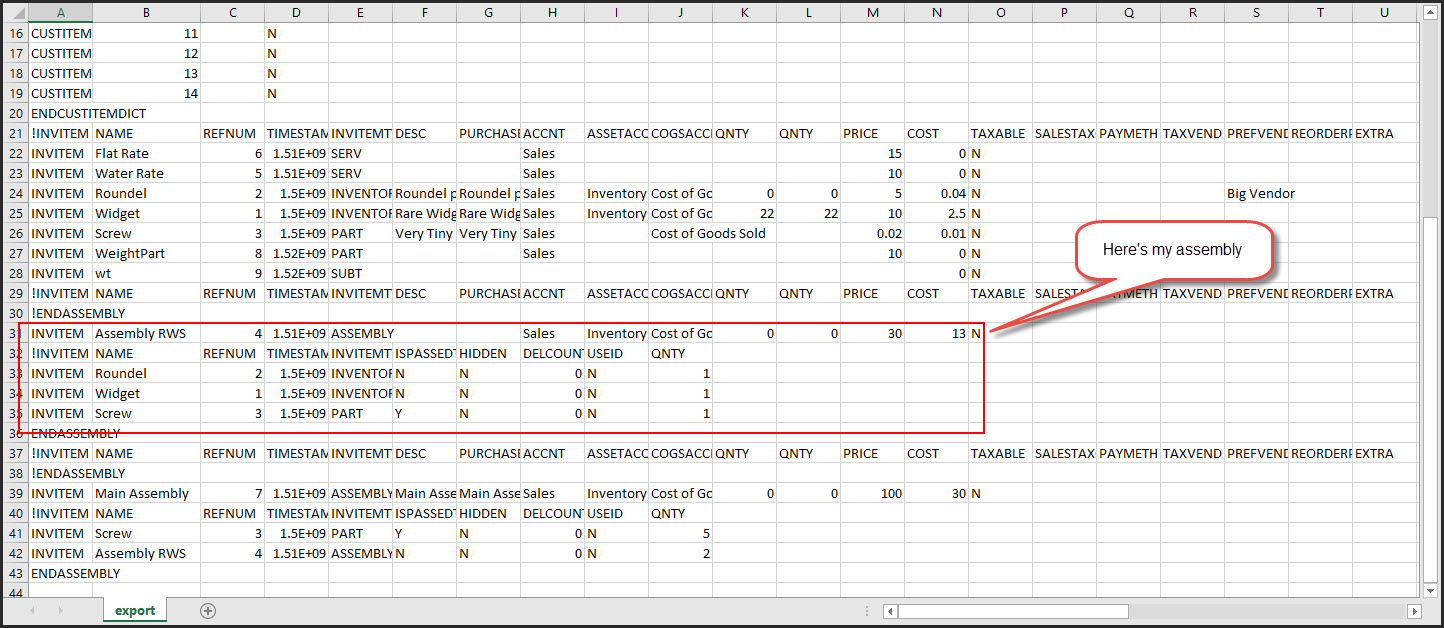 Let's see what we can do with CCRQBOM. Select Forms/Bill of Material: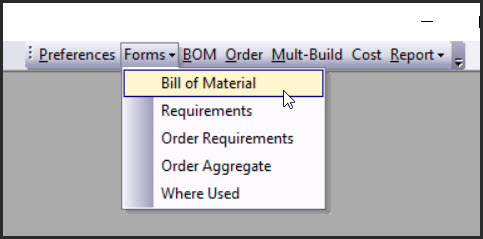 Click Multi Level BOM to select it, and then click Edit.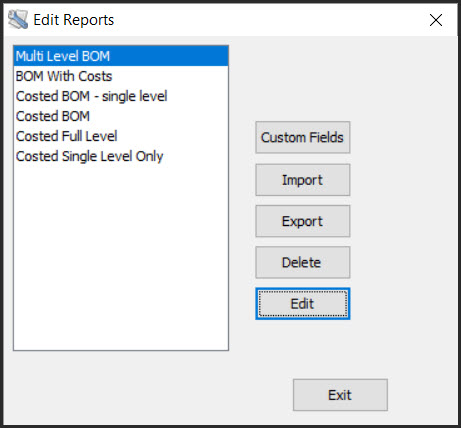 This opens the Form Designer:

Right-click on the PageHeader band and select Delete to remove it. Do the same for the PageFooter band. Then delete every field in the Detail header band, which is the assembly info (but not the BOM). This leaves you with the basic BOM detail and detail header. You may want to add other fields here, if you wish. The idea is to remove all extraneous information.

Select File/Save As and give this a name, then exit the designer.
To export a single BOM, select BOM from the CCRQBOM menu, select the assembly to export, and click the Display button. In the Display window, click the Print button. In the Print Reports window select your export template, select Print Preview, and then click the Print button. This will display the BOM as a report.
In the Print Preview, click the down-arrow on the green disk icon and select CSV File from the menu.

In the CSV Export Options window I generally leave things at the default settings.
Here's what you get:

Note that this is using the standard version of CCRQBOM, version 3.2.2.0. You can only export one BOM at a time using this version.
We have a "pre release" version of CCRQBOM, version 4.0.0, that is  available via special request (use our contact form to make a request). This version has the ability to print all of the assemblies in one report, which you may prefer.
In this version of CCRQBOM you will create your export report in the same way as above. Then, choose the Assemblies function, click on the Print BOM tab, and select Print All. This will export all of the BOM's in one file. Note, though, that you will get a header for each assembly. You might want to change the template to add a Page Header band, copy the column headings from the Group Header band, and then delete the Group Header band.