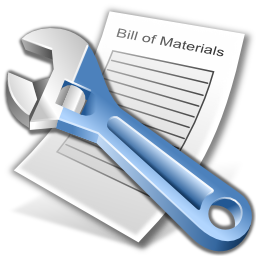 QuickBooks® provides basic inventory features, and some manufacturing tools, but mostmanufacturers will find that it doesn't provide many key features that every manufacturer needs. CCRQBOM is a QuickBooks® Compatible application that will work closely with your QuickBooks® data files to provide features that your business needs. It includes the following features:
Print Multiple Level BOMs: QuickBooks® can only display a single level "explosion" of an assembly. That is, if you have an assembly, and it in turn has a component that is an assembly (a sub-assembly), you cannot print a report that shows all of the items at all levels of the assembly. CCRQBOM has the ability to display and print multiple level assemblies (BOMs) so you can clearly see your product structure. You can also "batch" print BOM's for multiple assemblies
Issue Multiple Level Builds: In addition to being able to display each level of a multiple level assembly, CCRQBOM provides you with the ability to issue a Build for that assembly that will "explode" the bill of material and also issue builds for the sub-assemblies.
Requirements Reporting: You can enter a quantity of an assembly and CCRQBOM will display the quantity you need of each component part, consolidating the requirement for items that may appear multiple times in the bill of material. With our latest update you can combine requirements from multiple assemblies, so you can see the requirements (and shortages) you would have for a production schedule. This also will "explode" the BOM's to multiple levels, breaking down your requirements all the way to the raw materials as needed.
List all required assemblies in open sales orders: The requirements report can be based on all of the assembly items that the program finds in a selected group of sales orders.
Where Used Report: This is a critical report for any manufacturer – it will list every assembly that uses a particular component item. This allows you to identify the assemblies affected by part shortages or required engineering changes.
Our products work directly with your QuickBooks® data files, rather than having to import and export data to an external program.
CCRQBOM is available for $150.00 per license. You can install one license on up to 5 computers per business location. This is a one time fee, there is no annual charge or subscription.
Download a Free Trial
We highly recommend that you test a free trial of our product before purchasing, to test it with your data. This is a fully functional product that will work for 30 days.
We recommend that you look at our installation summary (PDF) document before installing this program. You also can review the program printed documentation (PDF).
Please review the system requirements listed below before installing or purchasing this program.
Click on the appropriate download link below to download the product. You should be given an option to "Save to Disk" or "Open". WE RECOMMEND that you select "Save to Disk" to download the file to your computer. Once you have a copy of the program you can install it on any computer that you wish.
Release 3.2.2 for Windows 7, Windows 8 and Windows 10: Download CCRQBOM  Note that this resolves the "revoked certificate" error that some users ran into with a recent update of Windows 10.
Release 3.2.2 for Windows XP and Windows Vista only: Download CCRQBOM
If you are installing for the first time the program will run as a "trial" version for 30 days, providing you with all of the features of the full program. When you purchase the program you will be provided with a registration code via email that will unlock the program on your computer. Please note that you may receive the registration code the next business day.
How to Purchase CCRQBOM
All of our software is offered on a "try before you buy" basis, which allows you to test it for 30 days before you buy it. Because of this, all sales are considered final and we issue refunds only if a program doesn't work as advertised and if we can't fix the problem encountered. Please review the system requirements listed below, and test the trial version before purchasing!
Click here to buy CCRQBOM. You will be taken to a PayPal web site where you can pay via PayPal or credit card. If you prefer purchasing via Check or ACH, please contact our sales department.
Please note the following:
CCRQBOM is available for $150.00 per license.
A single license allows you to install the program on up to 5 computers in a single business location. If you need more than five computers, or wish to install at a branch office, you must purchase additional licenses. See our license agreement for details.
Support is free via our support portal for registered users.
Updates are free for registered users.
When you first install the program it will work as a trial version. You will be provided with a registration code via email that will unlock the program on your computer. If you don't see this email within 30 minutes of purchase please check your "spam" or junk mail folders, the message probably got stuck in there. If you still don't see it, contact our sales department.
If you have installed the "demo" version, you don't need to download another copy – All you need to do is to enter the registration code that you will receive by email.
After we have received notification of your payment we will send you a registration code by email, which will unlock your product. Note that it may take as long as one business day before your registration code is sent. If you have not received your registration code please check your spam or junk mail folder.
CCRQBOM System Requirements
This program works with the following editions of QuickBooks Desktop under Microsoft Windows:
The US edition of QuickBooks Premier 2006 and Enterprise 6.0 or later. However, if you wish to use the pending build feature, you must have a 2008 or later version.
The Canadian Edition of QuickBooks Premier  2009 and Enterprise 9.0 or later.
The UK Edition of QuickBooks Premier 2008 and later.
Some users have been able to use CCRQBOM with the Australian Edition of QuickBooks Premier 2008/2009 and later, but we strongly suggest that you test this with your version before purchasing. We cannot guarantee compatibility with all Australian versions. This does not include "Reckon" desktop products.
We do not support any other non-US versions.
If you are using the US version of QuickBooks Enterprise with the optional Advanced Inventory feature, you cannot use CCRQBOM to issue build transactions. Also, reports cannot be filtered by site if you are using the Multiple Site option.
Yes, this does work with QuickBooks 2023 and Enterprise V23. We also have tested this with the beta test version of QuickBooks 2022 and Enterprise V22, and it does work with that version.
Operating Environment: This program has been tested on Microsoft Windows XP, Windows Vista, Windows 7, Windows 8, Windows 10, and Windows 11.
No, this does not work with QuickBooks Online or QuickBooks for Mac. Those are totally different software products, not directly related to QuickBooks Desktop on Windows, and they don't support the features that we require.