If you are using CCRQInvoice and you can't get the program to process orders for you, here's a checklist to go through to help resolve the problem.
This assumes that you have connected the program to your QuickBooks company file and that you aren't getting any error messages. If you are getting an error message then you can search this website for information on the particular error. If you can't find your error, send us diagnostic information.
 Open QuickBooks Company File Menu
If you just get this window, then one of several things have occurred: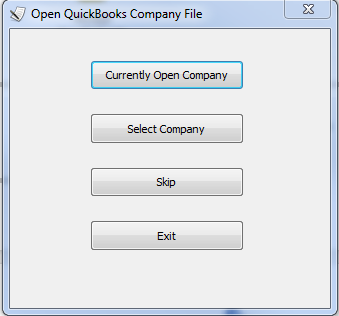 Your QuickBooks company file isn't open yet. Open it before you run CCRQInvoice.
You haven't told QuickBooks that it is OK to access this file. This must be done by the QuickBooks admin user. See the installation documentation for details on setting things up.
There was some kind of error message preceding this. Look for a description of the error message or send us diagnostic information.
All Menu Options are Gray
If you open CCRQInvoice and all options are grayed out, this means you aren't connected to the QuickBooks company file. The remedies are the same as listed in the Open QuickBooks Company File Menu section above.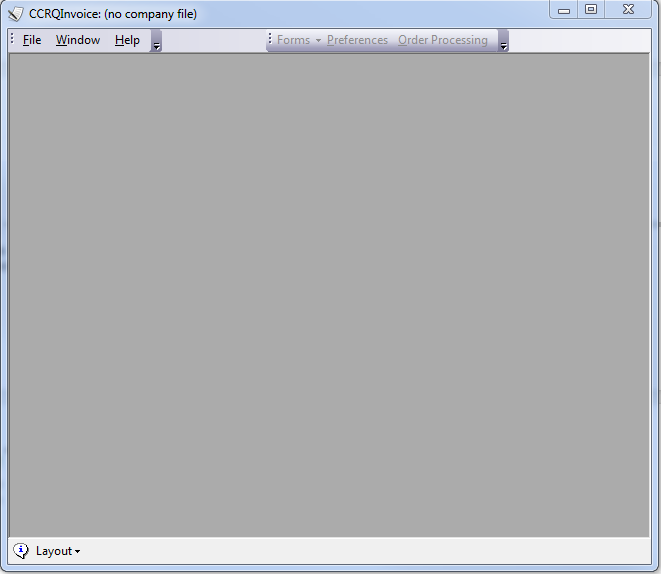 Processing Options are Grayed Out
If you open the Order Processing window and you cannot select the option you want because it is grayed out, that means that you haven't set up preferences for this company file. Note that this also can happen if you change your Company Name in the QuickBooks My Company information section.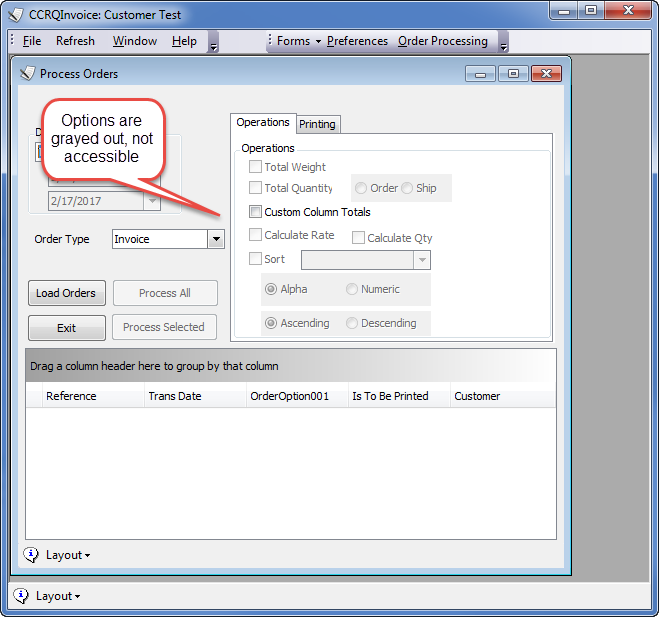 To correct this, select Preferences in CCRQInvoice, then click the button by Parameter Wizard.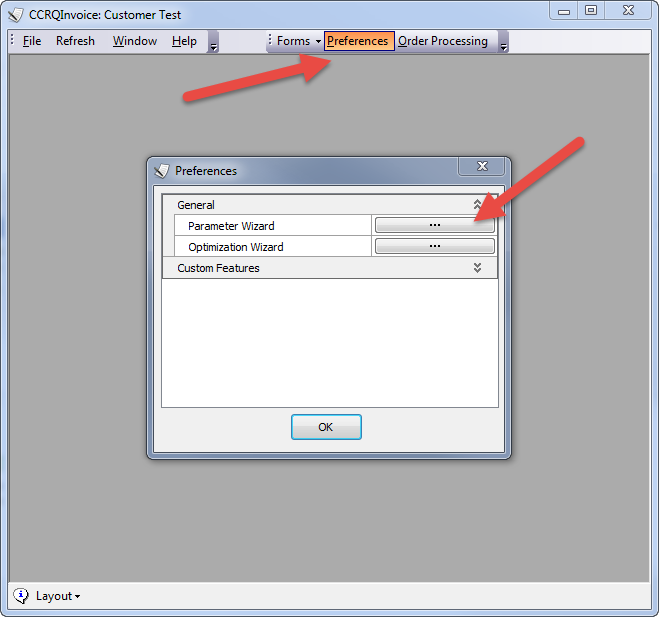 When you get to the Processing Options screen, choose the option you wish to enable.
Your Orders Aren't Sorting or Totaling
OK, so everything seems to work so far, but nothing happens! You can open CCRQInvoice without an error, your preferences are all set, but nothing happens?
First of all, remember that if you set up totals, the totaling won't happen automatically. You have to run the Order Processing function, load your orders, select your options and then click one of the Process buttons. This is described in the documentation. New users sometimes expect it all to happen automatically, but Intuit won't let us work that way.
If that still doesn't work, the most common issue is that you have multiple conflicting options. If you have enabled multiple processing options and several of them are sharing the same custom fields, they may interfere with each other. Make sure you don't have different options using the same custom fields.
Another possibility is that you are trying to process an order that is open in QuickBooks. Don't have the order open in QuickBooks when processing it, since QuickBooks has placed a lock on the order to prevent our program from updating it at the same time.
Beyond that, there are a number of potential (but not common) problems that can cause an issue. Again, we are assuming that you are not getting any error messages, then you can send us some diagnostic information. At this point we need a log file where you process a single invoice. Don't process multiple invoices, that makes it too hard to identify the problem. The procedure for setting up a log file and sending it to us is outlined in this article about how to send us diagnostic information.