In some cases, when you start a CCRSoftware product you may see an error message similar to the following: Cannot open company file (Session:1009,0) Cannot open this QuickBooks Company. This application does not have permission to access this QuickBooks company data file. The primary issue here is that the QuickBooks admin user has not given permissions to our product to work with this particular QuickBooks company file. Keep in mind that these permissions are set per company file, so you will need separate permissions for each file.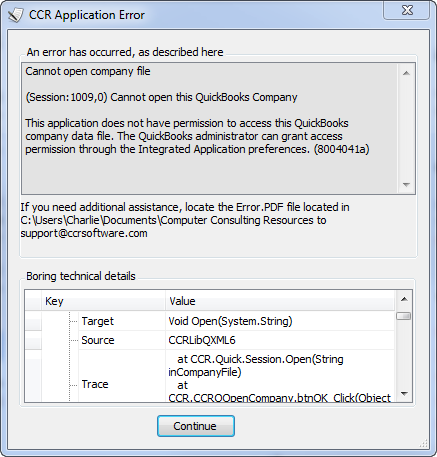 Ask your QuickBooks admin user to perform these steps to resolve this issue:
Run QuickBooks as the Admin user and open the QuickBooks file that you want to work with.
Select Edit from the QuickBooks main menu, then Preferences.
In the Preferences window, select Integrated Applications in the left menu.
Select the Company Preferences tab.
Make sure that the Don't allow any applications to access this company file box is not checked.
Locate the CCRSoftware product in the list of applications. Make sure that the Allow Access column has a check mark by the application name. In the screen shot below, CCRQInvoice does not have the box checked, and that is what is preventing the program from accessing this file. Click once in that column to add a check mark.
Click OK to close the window, and exit QuickBooks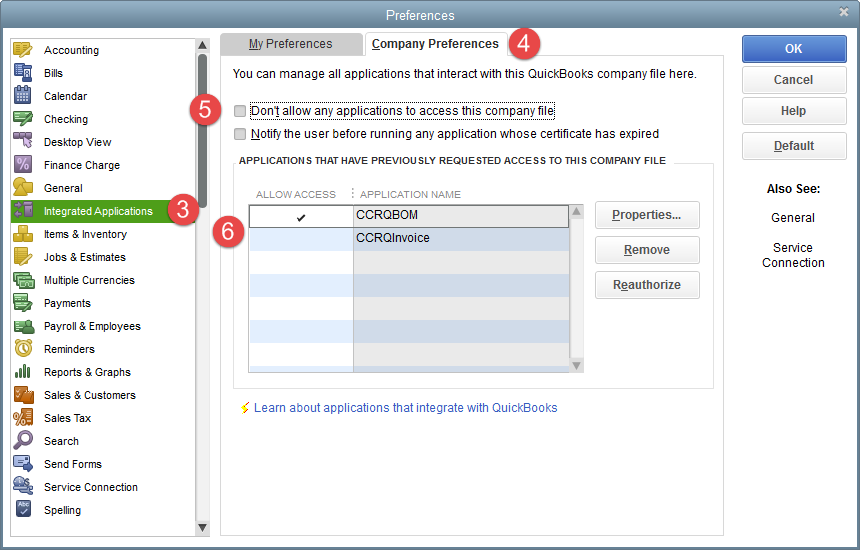 That normally will resolve the problem.
In some cases you may continue to have problems. Here are a few additional considerations:
Sometimes you may find that there are several instances of the same CCRSoftware product in the application list. This occurs if you have installed an updated version – both the original and the update will be listed separately. Make sure that all instances of the program have the allow access column checked.
In rare occasions there may be some data corruption in your QuickBooks company file, due to issues that have nothing to do with the add-on program. To resolve this, locate the CCRSoftware application in the list, select it, and click the Remove button to remove it from the list. Remove all instances of the CCRSoftware product that you are using. Then, exit QuickBooks and restart it (as the Admin user). Run the CCRSoftware product again, and you should be asked if you want to allow our product to access your file. It is important to answer Yes, whenever this QuickBooks company file is open.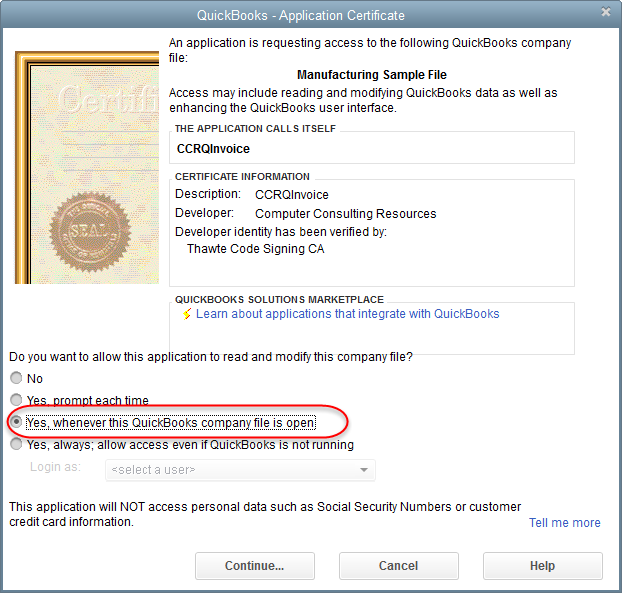 These steps resolve 99.99% of the issues we've seen that generate the error. If it does not, this indicates that you may have some file corruption in your QuickBooks file and that you should consider a "file rebuild" process to clean up your file. Please consult with a qualified QuickBooks ProAdvisor before proceeding, and always make a backup copy of your file before running a File Rebuild process.