This can be one of the more frustrating errors, "Cannot open this QuickBooks Company". Why not? If you look at the details of the error message one of the common issues you will see is the following:
The application trying to connect to QuickBooks is not supported while multiple instances of QuickBooks are running. (80040438)
There are a couple of situations where you may see this.
Two Copies of QuickBooks
The first one is a bit obvious – you'll see this message when you run the second copy: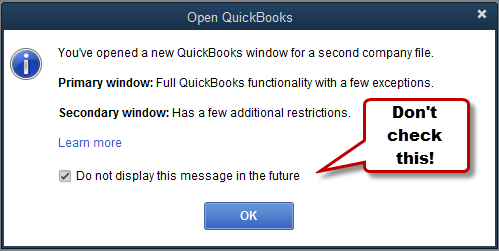 This implies that there aren't many problems ("a few exceptions") on the first copy, and more on the second copy. Unfortunately, if you look at the Learn more information, you'll see that add-on products like those from CCRSoftware ("SDK Applications") cannot work with either of these QuickBooks windows.
If you check that "Do not display…" box then you don't see this reminder again, and people can easily forget about these restrictions. You can bring the warning back by selecting Edit and then Preferences, then checking the box "Bring back all one time messages" in the My Preferences tab of the General preferences.
The short answer is – you can't run CCRSoftware programs if you are running two copies of the same version of QuickBooks at the same time on the same computer.
Keep QuickBooks Running
Another issue is a bit more subtle. There is an option in QuickBooks that was added a few years ago that lets you keep a portion of the QuickBooks program running in the background when you exit the program. The reason for this was that it could make QuickBooks start up faster the next time that you run the program. Note that if your QuickBooks program is starting off slowly the most common fix is to make sure that you close all QuickBooks reports when you exit, as they can really slow down the startup process if QuickBooks has to open them all in the beginning.
Most people don't see a big benefit to having this feature enabled, and by shutting it off you also may improve the performance of your computer when not running QuickBooks.
We find that many add-on connection problems are resolved by turning this feature off. To do so, select Edit and then Preferences in QuickBooks. Select the General preferences, and on the My Preferences tab un-check the box Keep QuickBooks running for quick startups.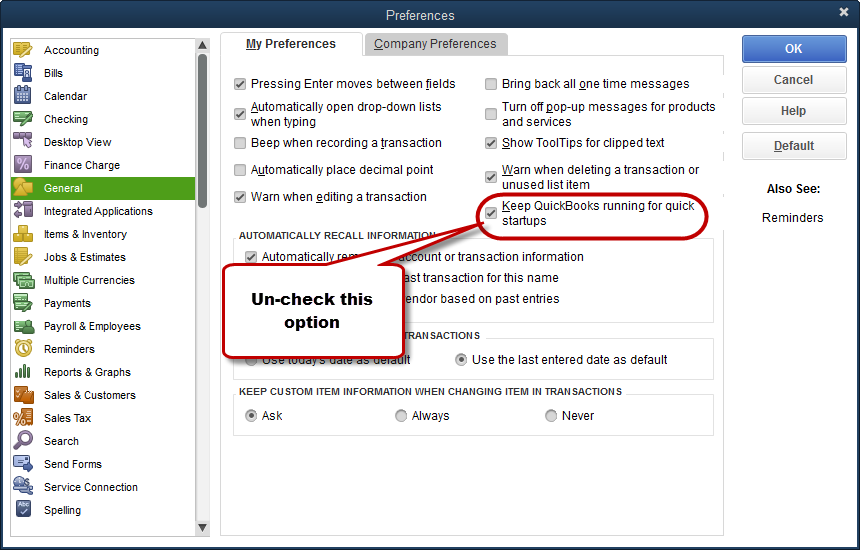 Please note that in 2017 Intuit started removing this preference from supported versions of QuickBooks, so you might not see the preference.
After un-checking it, click OK to close the window, close QuickBooks, and reboot your computer. Note that this preference is specific to each user account, so every user of the system needs to un-check this.
Please note that often when you upgrade QuickBooks from one year of product to another the program may re-check this preference. We often get calls about this from people who have been using our product for years without problems, then run into the error just after upgrading QuickBooks.