There are multiple reasons that you can get an error saying "Cannot open company file", with a detail of "Common open this QuickBooks Company". With the release of QuickBooks 2016 R7, Intuit has changed security access and you have to update your QuickBooks preferences for an add-on program to be able to access your file.
Here's the error message you'll see, with a QuickBooks error code of 80040430.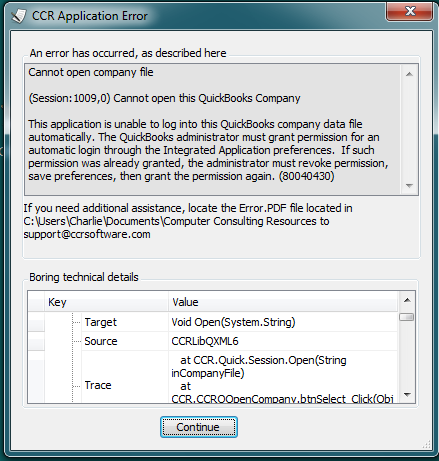 To fix this problem, according to Intuit, you must:
Open the QuickBooks file with the Admin user.
Select Edit and then Preferences to open your QuickBooks preferences.
Select the Integrated Applications preferences on the left side.
Select the Company Preferences tab.
Close the Preferences window.
With the company file still open, run the CCRSoftware program.
After a short pause you should see a window that asks if it is OK for the app to access the file. Say "Yes, whenever this QuickBooks company file is open".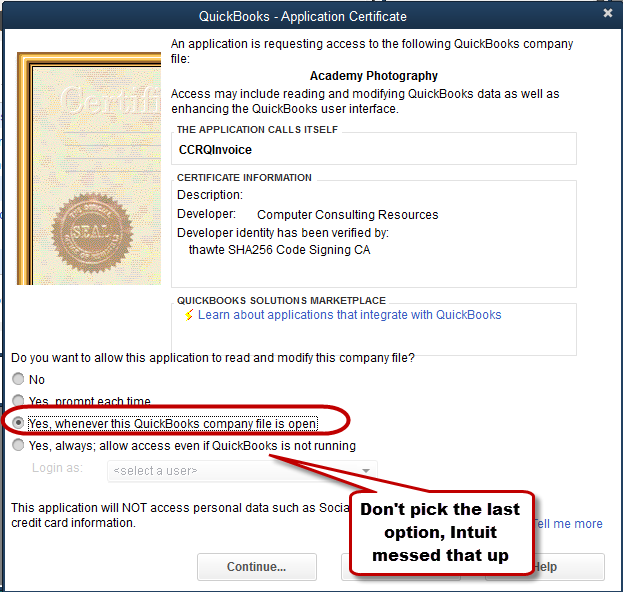 This should resolve the problem. NOTE that you cannot use the CCRSoftware program in "unattended" mode, which means that you always have to open the QB file first. That is an apparent bug in this update to QuickBooks.