CCRSoftware will, on occasion, provide "pre release" versions of our products. Sometimes these are versions where we are testing new features that we want feedback on, sometimes these are versions that include new features that haven't been fully documented (or are still under development).
Please note that:
It is possible that there are bugs or shortcomings in the product, since this release has not undergone complete testing. However, we will not provide a pre release version if we know of any problems that will cause damage to your QuickBooks file.
Documentation for the program (other than what might be provided here) has not been completed.
Often you will find that "forms" or "report templates" created with prior versions will not be compatible with this pre release version. You usually have to recreate any forms that you are using in older versions.
In most cases (unless noted) you cannot have a prior version installed on the same computer as the pre release version. The installer will remove the older version.
Unless noted, you can uninstall the pre release version and reinstall the older standard version without problem (other than form/template compatibility).
In some cases your registration key / serial number from a prior version will not work with the pre release version, you will need to ask our support staff for an updated key.
CCRQBOM 4.0.0
This version has a number of changes, including the ability to issue builds on a specific date as well as more data from QuickBooks being available in reports. The release date for this has not been set at this time. Please note the following:
This release required different registration keys than versions earlier than 3.7.0
The form editor allows access to additional QuickBooks data fields. Note that forms created in prior versions cannot be used with this release.
This release resolves the No Disk in the Drive bug in QuickBooks.
No release notes are available at this time. One of the big changes to note is that the BOM and Mult Build functions from earlier releases are now combined into one Assemblies function in the main menu.
The installers listed here will work on Windows 7, Windows 8 and Windows 10. No support for Windows XP or Windows Vista
These installers resolve the "revoked certificate" error that some people ran into with a recent update of Windows 10
If you are installing on a 32 bit computer, download CCRQBOMSetup40032.exe. DO NOT use this for 64 bit systems.
If you are installing on a 64 bit computer, download CCRQBOMSetup40064.exe
Special Note: If you are editing a report template, some functions may generate the following error: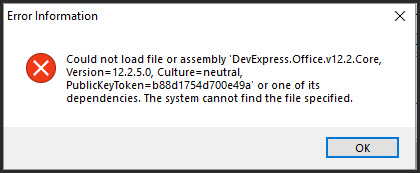 If you see this, download this program component file and copy it to the folder where the program was installed. This will probably be C:/Program Files (x86)/Computer Consulting Resources/CCRQBOM/
On 32 bit systems you won't have the "(x86)" portion of that name. Note that when you installed the original program you could have chosen a different location.
This is a program component and your virus monitoring program might object to downloading this file. Also note that you will need system administrator permission to copy the file to that location.